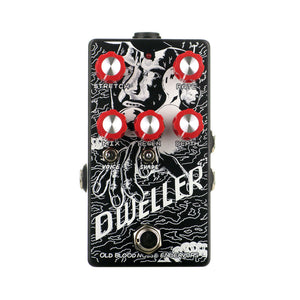 Old Blood Noise Endeavors
Old Blood Noise Endeavors Dweller Phaser, Black/White (Gear Hero Exclusive)
Not all items are stocked at our Boca Raton location. If you're local, please contact us before visiting.
What if a phaser could remember itself? Dweller remembers. It remembers far too much. From familiar phase and vibe sounds to resonant random step filtering, warm delays, and previously unheard in-betweens, the Dweller is capable of countless sonic textures with five controls and six modes.
Toggle switches to select between two phaser voices (four stage and eight stage) and three wave shapes (sine, triangle, and random step). Three controls to shape the sound of the phaser: Rate to set rate, Depth to set depth, and Regen to increase intensity. An innovative Stretch control that changes delay time inside each phaser stage. Mix control from 100% dry (unaffected signal) to 100% wet (affected signal). Expression jack for external control of the Stretch parameter. Internal trimpot to control output level.
---
Share