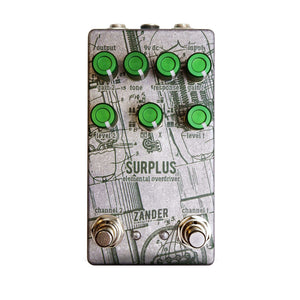 Zander Circuitry
Zander Circuitry Surplus Overdrive
Not all items are stocked at our Boca Raton location. If you're local, please contact us before visiting.
More restrained. More responsive. We love wild fuzzes, obscure overdrives and walls of distortion. But every rig needs a tamer side to fill the gaps and glue everything together. The Surplus delivers all of that and more, with the versatility to go from boost and subtle drive tones all the way through to full-throttle distortion and even fuzz. The flexibility's there. It's your job to use it to unlock your signature sound.
Two channels are better than one. So the Surplus brings dual-channel flexibility to the party – each with their own level and gain controls. That means you can dial in two different sounds, easily switch between them on the fly, or reach either of them from the pedal's bypassed state by activating the relevant footswitch.
There's also a Response control that affects both channels. This alters the input and output capacitor value, rolling off the gain and low-end signal to unlock complex 'broken' drive sounds.
The Surplus also comes with Zander's diode rotary switch, which lets you choose between eight different clipping types:
Germanium: Smooth, sweet, and classically 'amp-like'.
Silicon: Louder, brighter, and a little bit brittle.
LED: Louder again, with less saturation and more punch.
Asymmetrical germanium: A more aggressive version of germanium.
Asymmetrical silicon: A more aggressive version of silicon.
Asymmetrical LED: A more aggressive version of LED.
Transistor/MOSFET: Similar to silicon, but sweeter and crunchier.
No diodes: Loads of output and much less gain.
Each of these will flavour the Surplus' drive tones in a unique way. And when you dial the gain control all the way up, you get the spitting, gated distortion familiar to anyone who's ever plugged their guitar directly into a recording console.
---
Share