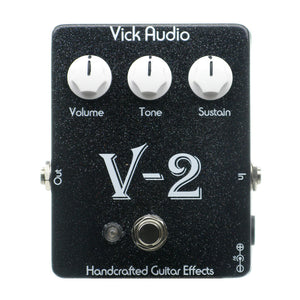 Vick Audio
Vick Audio V-2 Distortion
Not all items are stocked at our Boca Raton location. If you're local, please contact us before visiting.
The Vick Audio V-2 is based on the famous Pete Cornish G-2™ distortion unit. Well usually I make it a point to only do reproductions of pedals that are no longer made by the original manufacturer I decided to make an exception in this case since the original units are so expensive and hard to find.
The V-2 is not an exact reproduction of the G-2 but has some differences I would like to point out. I dislike pedals that use buffers when bypassed so I made the V-2 a true bypass pedal. The input buffer is still present when the pedal is engaged but not when turned off. I have nothing against buffers I just want the guitarist to have a choice if and when to put buffers in the signal chain.
The V-2 is a great sounding distortion/overdrive circuit with plenty of headroom and sustain. At the lower sustain settings you get great overdriven tones with excellent harmonic. At the higher sustain settings you get full on singing distortion reminiscent of the cranked Marshall amp used by so many of the famous British Rock groups of the 70's.
3PDT True Bypass switch
High Quality US made PCB construction
Neutrik Audio Jacks
Powder Coated Enclosure
Uses 2.1 mm Boss style power jack (power supply not included), no internal 9V battery clip
Hand-wired, boutique quality, made in USA
4.67" x 3.68" x 1.18" (119mm x 94mm x 30mm) 1590bb sized enclosure
---
Share