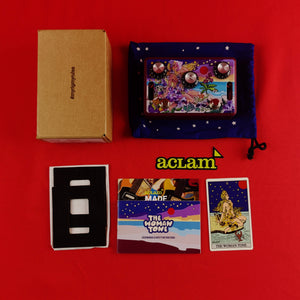 Aclam
[USED] Aclam The Woman Tone Overdrive
Sale price
$277.98
Regular price
$339.00
Not all items are stocked at our Boca Raton location. If you're local, please contact us before visiting.
[ Items listed as Mint by GearHero conform to the Reverb Gear Conditions guidelines and have no issues or defects to note and include all original materials/accessories. ]
It was on November 26 of 1968 that Cream, the supergroup formed by Eric Clapton, Jack Bruce and Ginger Baker performed their last concert at the Royal Albert Hall before their dissolution, giving the best of the most symbolic shows ever!
The Woman Tone captures Clapton's unique sound during Cream's ephemeral yet significant existence featuring a Plexi style overdrive and a distinguished Woman Tone function, replicating the signature trick he was famous for.
The Woman Tone effect pedal is our best attempt to recreate the tone Eric Clapton's was known for during his Cream days. Slowhand, a nickname that can be rapidly recognizable by guitarists, described it as a "Sweet sound" in an interview during the farewell gig at the Royal Albert Hall, he said "It's more like a human voice than a guitar. You wouldn't think it was a guitar for the first few passages. It calls for the correct use of distortion." After watching the documentary, we couldn't help but feel inspired and amazed by the mastery behind it, so after some research we decided to challenge ourselves and replicate this sound on a pedal with an accurate approach to the unique tone he attained with a combination of his custom made Gibson SG and 100W Marshall ampli.
In result, we achieve a pedal with a meticulous and faithful reproduction of the legendary Woman Tone by simply pressing a switch! The Woman Tone in a box, as we like to call it, is a doorway to the Cream era and a truly playable pedal for any Clapton fanatic out there seeking his signature sound!
Since we wanted to pay the most close and extraordinary tribute to Cream both from the inside and out, we decided to reach out to the artist responsible for the art of Eric Clapton's original 1964 painted Gibson SG, which became a cultural icon in the history of guitars, and we got lucky enough to get Marijke Koger, former leader of the art collective The Fool, to design the artwork of The Woman Tone pedal. Marijke's amazing work illustrates the fantasy of the Woman Tone, portraying a woman in paradise with very vivid colors and key elements that reflect the movement of the psychedelic youth culture in the 60's and the inspiration behind the original Gibson owned by Clapton.
---
Share