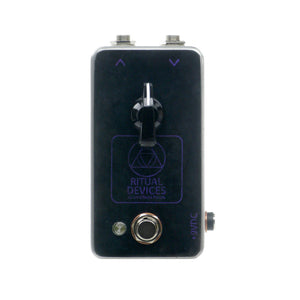 Ritual Devices
Ritual Devices Nightshade One Knob Fuzz
Not all items are stocked at our Boca Raton location. If you're local, please contact us before visiting.
The Nightshade Fuzz adds itself to a long list of classic one knob fuzzes. A 2 transistor, dirt simple, balls to the wall, one knob fuzz. Utilising NOS Silicon 2N2222 metal can transistors and carefully selected components throughout.
The Nightshade Fuzz has one control - Volume. Using your guitars volume and tone pots, a whole range of fuzzy bliss is yours for the taking. Built and wired entirely by hand.
All analog. True Bypass switching. Acid Etched, Hand coloured and blackened rugged enclosure. +9VDC
---
Share