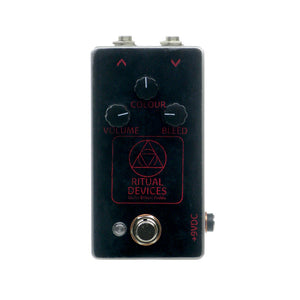 Ritual Devices
Ritual Devices Bloody Norah Fuzz
Not all items are stocked at our Boca Raton location. If you're local, please contact us before visiting.
Bloody Norah began with a question... What would happen if I took a standard Big Muff circuit and replaced it's 2 clipping stages with a nasty, primal hybrid Germanium/Silicon fuzz?.... Bloody Norah!!! Not for those looking for refined traditional Big Muff tones. Bloody Norah Is more brazen. Up front and screaming, noisy fuzz horror. You were warned!
A NOS Russian Germanium transistor at her heart battling with vintage Silicon. Carefully selected components, on hand etched PCB. Genuinely not for the faint of heart... Built and wired entirely by hand.
All analog. True Bypass switching. Acid Etched, Hand coloured and blackened rugged enclosure. +9VDC
---
Share