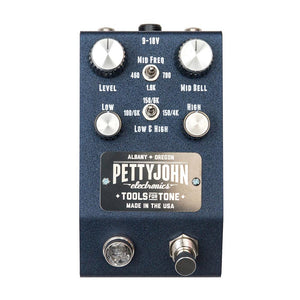 Pettyjohn
Pettyjohn Filter Studio Grade EQ
Not all items are stocked at our Boca Raton location. If you're local, please contact us before visiting.
The Filter is a simple but powerful semi-parametric guitar equalizer featuring three individual bands to cover the range of a guitar effectively. The circuit has been carefully designed with high headroom for low noise, low distortion performance, while offering up to 12dB of boost or cut with the ultra transparency and musicality of an analog recording console EQ.
Features
Studio-Grade Three Band, semi-parametric EQ based on classic analog recording console topology
Low Band with 12 dB boost or cut. Bell at 150 Hz or Low Shelf at 100 Hz.
Mid Band with 12 dB Boost or cut. Inductor driven bell filter with three frequencies: 460Hz, 780Hz, 1.8 kHz
High Band 12 dB Boost or Cut. Bell at 6kHz or 4 kHz
Low noise, low distortion premium electronics with full range frequency response 20Hz-22kHz.
Stock High Performance Burr Brown OPA2134, upgradeable to Dual Discrete Opamp
High Performance Power: Dual-rail power section with 9V to 18V operation range, providing 18V-36V of voltage swing for huge internal headroom while drawing under 100mA and whisper quiet.
---
Share