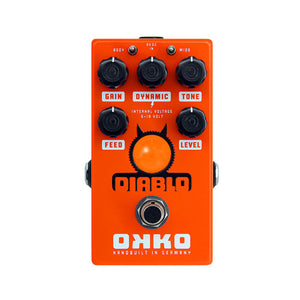 OKKO FX
OKKO FX Diablo Overdrive
Not all items are stocked at our Boca Raton location. If you're local, please contact us before visiting.
The DIABLO offers exceptional dynamic qualities and super-clear, amp-like sounds. Unlike many other overdrives it works perfectly with clean amps. What makes it so special is a set of controls that affecst the "feel" of the pedal, the way how it reacts to your playing.
DYN(AMIC) adjusts the internal voltage from about 6 to 18 volts. Increasing the headroom results in less compression, tighter bass and more punch.
FEED controls low frequencies in the input signal allowing tight and transparent sounds even with the fattest sounding neck pickups.
BODY works on bass and low mids and offers three settings: 1 – full spectrum, bass gets saturated with higher gain settings, 2 – tight sound with less low end, 3 – full but with tight clean bass
MIDS changes frequencies in the tone control. Perfect for matching pedal and amp tone. 1 – mid cut, 2 – mid boost, 3 – classic Diablo
---
Share