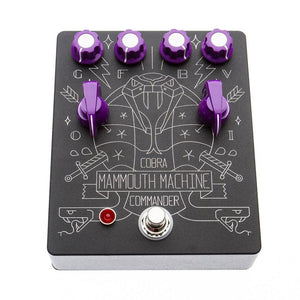 Mammouth Machine
Mammouth Machine Cobra Commander
Not all items are stocked at our Boca Raton location. If you're local, please contact us before visiting.
Time for your guitar to stop sounding like a guitar! You can now turn it into an 80s retro-futuristic soundtrack! 
Transform your signal into a noise-oscillation gated synth-like fuzz and send it through a monophonic PLL harmonizer. 
The Cobra Commander can give you three octaves of pitch shift, up or down, including individually selectable intervals of 3rd and 5th harmonics. However, it only accepts monophonic signals from the source. 
A blend knob is provided so you can make the perfect blend of fuzz and harmonized signals. 
The self oscillation fuzz can be used as a standalone noise pedal which will delight all 
the epic drone noise-makers. 
The pedal offers a multitude of atypical yet musical sounds and textures. 
  
"G" (Gate) knob adjusts the DC bias 
 "F"  adjusts the oscillation frequency 
 "B"  blends between the fuzz and the harmonizer 
 "V"  sets the output volume 
 "O"  (Octave) rotary switch selects three octaves of pitch shift, up or down 
 "I"  (Intervals) rotary switch selects intervals of 3rd and 5th harmonics 
 *Internal trim pot adjusts the sensitivity*
SPECS: 
Standard 9 volt boss type power supply. 
1/4" input and output jacks 
True Bypass 
No internal battery clip 
Cnc etching finition.
---
Share