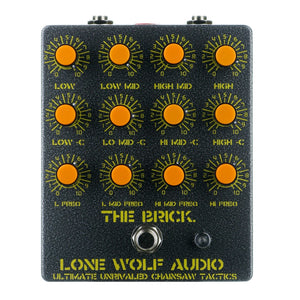 LONE WOLF AUDIO
Lone Wolf Audio The Brick EQ
Not all items are stocked at our Boca Raton location. If you're local, please contact us before visiting.
Further expanded version of the 8 ball EQ, now with even more tone tweaking options. High headroom operation, designed to allow you to achieve absolutely devestating new levels of refined chainsaw tone. The center bands allow you to sweep the entire range of each band when the top row are maxed. The frequency bands allow you to shift the root of each bands specified range to exactly where you want it.
This is the final word in a design like this, dont waste you time with others. The use of an isolated and regulated 9v power source is required, a low grade daisy chain power supply will void your warranty. Dont do it.
---
Share