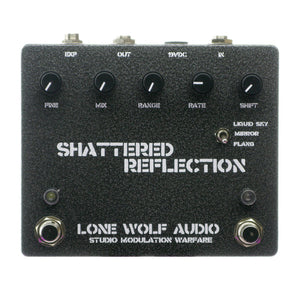 LONE WOLF AUDIO
Lone Wolf Audio Shattered Reflection Modulation
Not all items are stocked at our Boca Raton location. If you're local, please contact us before visiting.
The Shattered Reflection is a time based effect that allows for studio recording tricks right on your pedal board, with the expression parameter swapping capabilities my digital effects are known for, giving you real time in the moment adjustment where it matters most: Live, on stage.
Mirror is a lead doubler, with the ability to double, and pseudo triple your leads to simulate multiple layered tracks live.
Liquid Sky , while the worst movie ever made, is also the best name I could give this Chorus mode. Lush, thick chorus, straight out of the era we all love.
And then there is Flang. A flanger with dual expression control, shift regen , and a wide range control.
As this is a digital effect, the use of a budget brand power supply such as a one spot or other daisy chain type adapter will result in undesired operation and is not recommended.
---
Share