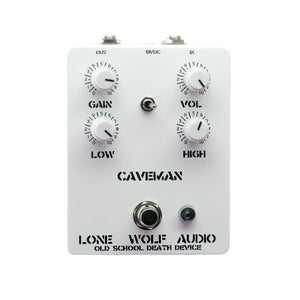 LONE WOLF AUDIO
Lone Wolf Audio Caveman Death Metal Distortion, White (Gear Hero Exclusive)
Not all items are stocked at our Boca Raton location. If you're local, please contact us before visiting.
Lets face it, the last 6-7 years of bad stoner and bar rock riffs have been lame. Its time those of us in the know, brought "heavy" riffs back the right way.
The Caveman is original in its drive section concept, but has an EQ that is a tweaked take on the FZ2 EQ with less low emphasis, more midrange emphasis , and is pretty much made to do that crushing death metal riff thing we all love.
Controls are basic, it doesnt take a caveman to know what does what. Death metal forever.
This is not made to work with a low tier power supply, or daisy chain type wallwart. An isolated and regulated power source is recommended for optimal use.
---
Share