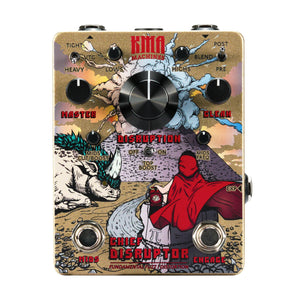 KMA Audio Machines
KMA Audio Machines Chief Disruptor Fuzz
Not all items are stocked at our Boca Raton location. If you're local, please contact us before visiting.
Welcome to a new era of the most iconic fuzz/distortion sound the world has ever known. You know, that epically huge and super saturated tone (some might call it big and muffy) that has defined the signature sound of so many artists and countless records in the past few decades.
It's arguably one of the pedals with the biggest impact on the entire industry, which has seen it modified over and over and over again. So much that you think it's all been done, right? Oh boy do we have a surprise for you here! Holding three different Gain Modes, a preor post-EQ Clean Blend, active Bass and Treble controls, a foot-switchable and expression-controllable parametric Mid-EQ as well as a switchable top-boost for even more raspy, grinding bite, CHIEF DISRUPTOR is the most flexible, beautifully balanced and LOUDEST muff-style pedal you'll ever hear!
Controls:
MASTER - Sets the overall volume
DISRUPTION - Sets the amount of fuzz/distortion
CLEAN - Blends in the input signal
VOICING - (Toggle-Switch)

TIGHT: modern Big Muff sound with tight lows, focused mids and a crisp top end
VTG (Vintage): Classy Muff Sound, low- to mid-gain distortion, balanced frequency response
HEAVY: full blast Big Muff sound with massive low end and plenty of gain

TOP BOOST - (Toggle-Switch) Turns on/off a high-mid boost for a sharp attack and increased top end distortion
BLEND - (Toggle-Switch) Sets the insert point of the clean blend, either PRE EQ or POST EQ
LOWS - Active bass control to boost or cut your low end (+/-15dB)
HIGHS - Active treble control to boost or cut your high end (+/-15dB)
MIDS CUT/BOOST - Sets the centre frequency of the mid-eq (from 100 Hz to 2 kHz)
MIDS - FREQ - Active semi-parametric EQ for high frequency boost (up)/ cut(down) with adjustable centre-frequency between 1.4-5 kHz via below potentiometer (midpoint: 2 kHz)
---
Share