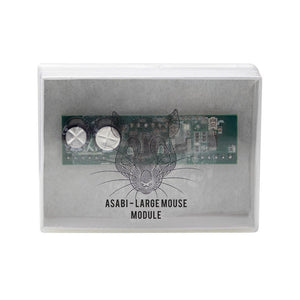 JACKSON AUDIO
Jackson Audio Large Mouse Module for Asabi Distortion
Not all items are stocked at our Boca Raton location. If you're local, please contact us before visiting.
To keep things interesting on your pedalboard, we developed technology to create replaceable distortion modules so you can swap the distortion circuit in the ASABI without having to buy a completely new pedal! Because we all like to try out new pedals, these affordable modules allow you to buy the pedal once and update it with new modules all the time!
The LARGE MOUSE module is based on the legendary ProCo Rat and delivers all the snarl and spit of the original with features you've never seen before! Coupled with an active EQ, 4x clipping options, and our innovative Gain Cycle feature, you've never heard a Rat like this before! To make the LARGE MOUSE even more faithful to the original, we procured the mythical LM308 chip that is used in the most sought after vintage units!
---
Share