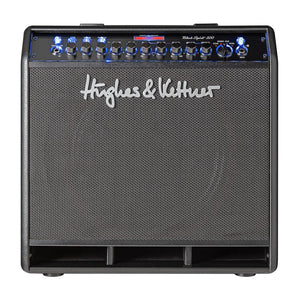 Hughes & Kettner
Hughes & Kettner Black Spirit 200-200-watt 1x12" Combo Amp
Not all items are stocked at our Boca Raton location. If you're local, please contact us before visiting.
Designed to be the 'largest' sounding 1×12" combo ever produced and delivering a true wall of sound playing experience that players can carry in one hand, Black Spirit 200 Combo's secret is in its enclosure: a closed-back front-ported birch plywood construction, it features perfectly tuned Thiele/Small ports for enhanced low-end response.
Meanwhile, well-balanced dimensions dampen the speaker's movement and at the same time allow it to breathe, letting it unleash its full sonic potential and delivering more output than any other comparable housing.
The result is the punchiest yet most balanced frequency response ever in a combo of this size!
The secret behind Black Spirit 200's incredible sounds is a groundbreaking new 'bionic' tone generating technology called Spirit. This strictly analog circuitry faithfully recreates the complex, dynamic processes known from classic tube amp designs, thereby delivering world class tone and responsiveness.
The compact 1×12 Thiele/Small enclosure which houses a UK-made Celestion G12H-75 Creamback speaker features perfectly tuned Thiele/Small ports. The result is the punchiest yet most balanced frequency response we've ever designed for a combo.
To give you that genuine wall-of-sound feel and sound, we paired a unique Thiele/Small cabinet enclosure with a UK-made Celestion Creamback speaker.
What is Thiele/Small, we hear you ask? Well, it's a common term these days, and it's all about achieving the biggest possible sound out of a smaller sized, ported/vented speaker enclosure. Thiele/Small is named after A. Neville Thiele of the Australian Broadcasting Commission, and Richard H. Small of the University of Sydney, Australia.
These two audio pioneers developed a way to calculate how large a speaker cabinet would need to be – and how wide and long the vented port should be – in order to achieve maximum low frequency performance.
The Thiele/Small development approach leads to well-balanced dimensions that dampen the speakers' movement, while at the same time allowing it to breathe. Only in this way can the speaker unleash its full sonic potential and deliver more output than in any other housing – as you're about to find out!
Over the years, we've been exploring the origin of the tonal magic of tube amplifiers more and more deeply. And what became obvious is this: it's about way more than just the tube. The true tonal magic emerges from all the 'weird' dynamic interactions between the single circuit sections and the amp stages, the transformers and the speakers.
Together, these highly complex and dynamic physical phenomena create that rich, organic and tactile sound experience guitar players are looking for.
The Spirit Tone Generator technology faithfully recreates the natural yet wildly complex interactions of traditional tube amp circuits on a digitally controlled but strictly analog working platform. This miniature masterwork houses the essence of the physics behind tube amplifiers, with all of the intensity – hereby creating the rich and responsive tonal behavior that gives you an unbridled joy of playing. Put simply, Spirit is made to inspire guitarists to perform at their best.
---
Share