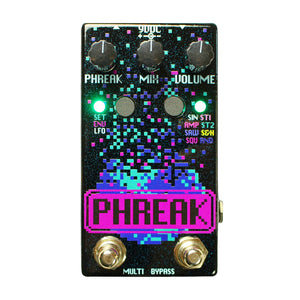 Dr. Scientist
Dr Scientist Phreak
Not all items are stocked at our Boca Raton location. If you're local, please contact us before visiting.
Phreak is a digitally controlled ring modulator. At its heart is an FV-1 DSP engine delivering crisp ring modulator tones. The digital side brings a whole bunch of convenient and powerful features like controlling the ring modulator frequency, tap tempo, MIDI, 8 LFOs, a tunable ring modulator, 7 optional DSP ring mod effects and a path to strange new ring modulator sounds.
3 Ring Modulator Modes, 8 LFO Waveforms in a small form factor
Custom programmed DSP effects with all analog dry signal path
USB firmware updating (PC required)
Updated power input circuitry
Premium parts and components throughout
True Bypass with soft touch relay switching
MIDI implementation of all digital controls
Expression pedal/CV control over Ring Mod Frequency (Phreak)
Top mounted audio and power jacks
Designed and handmade in B.C., Canada
PHREAK – Mode dependent. Controls Ring Mod Frequency or Frequency Range.
MIX – Sets the amount of dry signal versus wet signal.
VOLUME – Analog volume control.
MODE – Select 1 of 3 operating modes (Set, Envelope, LFO).
WAVEFORM – Select 1 of 8 waveforms for LFO Mode.
MULTI – Mode dependent. Automated Frequency Sweep, Envelope Freeze, LFO Speed Ramping. Hold in Set Mode while bypassed to sweep frequency momentarily.
BYPASS – Engage or disengage the effect. Hold in Set Mode to Tune.
---
Share