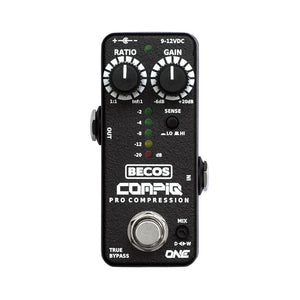 BECOS FX
BECOS FX CompIQ ONE Pro Compressor for Guitar and Bass (Gear Hero Exclusive)
Not all items are stocked at our Boca Raton location. If you're local, please contact us before visiting.
CompIQ MINI ONE Pro Compressor is the simpler interfaced analog processor in the CompIQ series of compressors. It is aimed at the "set-and-forget" type of users, which seek simplicity in operation, while still benefiting from the sound qualities matched by expensive studio gear. This mini compressor pedal is the missing ingredient for simple and accurate dynamic processing. It helps improving playability, providing clarity and musical definition without clouding your instrument's tone.
CompIQ MINI ONE Pro Compressor is the simpler interfaced compressor in the CompIQ series. It is aimed at the set-and-forget type of users, which seek simplicity in operation. The MINI ONE is featuring the same core sonic technology as its bigger brothers, being built around the top-class 4320 THAT Analog Engine®. At the heart of processing, a true RMS-level detector measures the input signal and applies accurate feed-forward compression through a transparent sounding, high-performance Blackmer® VCA.
The CompIQ MINI ONE features controls for Ratio, Gain, and Dry/Wet Mix, alongside a Sense threshold switch with two preset levels. This gives the user the flexibility to adapt the compressor to any kind of instrument level. Compression Knee is set for Hard processing, providing a pronounced yet transparent effect application which is appropriately balanced through the Dry/Wet Mix trimmer.
The compressor's Side-Chain Processing presents a non-linear, high-pass characteristic above 1KHz, which balances the potential trigger-difference between the energy of low and high frequency. Such a feature is usually available only in high-end studio compressors, and it is intended for a natural effect application even on higher compression ratios. You can read more about this feature in the CompIQ 101 section of this page.
Dynamic Auto Attack & Release Timing circuitry replaces the need for a dedicated attack switch or manual attack and release controls, rendering perfect timings for any playing style. The timing is set for fast attack and slower release but it is also program-dependent – fast transients are released faster, while steady signals decay slower. On average, the release time is 10-15 times the attack time. Regardless of the playing style, the dynamic auto timing of the compressor will always sound great because it's adapting to the input signal envelope.
The amount of compression is indicated by a responsive 5-LED display, for visual feedback over how much the signal is reduced while compression takes place. The True-Bypass routing leaves bass or guitar signal chain untouched when the pedal is not engaged, even if it's not powered.
CompIQ MINI ONE Pro Compressor was designed with guitar and bass in mind but make no mistake, it can add dynamic feeling to any audio signal, including vocals – with an appropriate preamp. We think it may also be among the best mini guitar and bass compressor effect pedals. Many instruments can benefit from the CompIQ series of compressor's qualities: electric guitar & bass, electric acoustic guitar & bass, electric string instruments, harmonica, brass instruments, synthesizers, etc.
The CompIQ series of compressors is not gonna alter the magic voice of your instrument. They preserve the original guitar or bass tone while providing unobstructed, pristine audio compression. The high dynamic range of these compressors allows for natural-sounding clean tones and low noise, artifact-free audio processing without the distortions usually introduced by optical compressors.
True analog bypass
Blackmer® VCA analog compressor
True RMS-level detector
Ratio 1:1 – inf:1
Sense Threshold Switch Presets: Low is -40dB; High is -30dB
Make-up Gain -6dB to +20dB
Hard compression knee
Program dependent Dynamic Auto Timing (Fast Attack / Slower Release, with an immediate release for transients and hold for steady signals)
Non-linear, easy-slope, high-pass side-chain processing above 1KHz
Dry/Wet mix
5-LED compression display
Socketed hi-quality FET audio IC, low tolerance parts & WIMA audio capacitors
MINI-sized, black powdered, genuine aluminum Hammond enclosure
9-12 V DC external power supply, center negative, 12mm long barrel plug (not included)
3-year warranty
For more information about the CompIQ series of compressors, please see Becos FX's CompIQ 101
---
Share