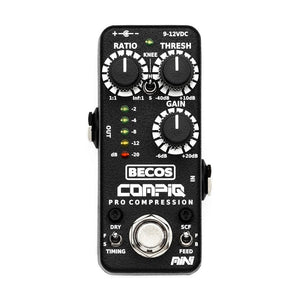 BECOS FX
BECOS FX CompIQ MINI Pro Compressor for Guitar and Bass (Gear Hero Exclusive)
Not all items are stocked at our Boca Raton location. If you're local, please contact us before visiting.
CompIQ MINI Pro is an all-analog compressor pedal designed for guitar and bass and hand-built around the top-class 4320 THAT Analog Engine®. It provides the essential controls for achieving professional-level audio compression, something never before seen in a package of this size. At the heart of processing, a true RMS-level detector measures the input signal and applies accurate feed-forward compression through a transparent-sounding, high-performance Blackmer® VCA.
CompIQ MINI features Ratio, Threshold, Gain, and Dry/Wet Mix, which all interact with each other and offer the manual continuous controls necessary for a balanced and refined compression setting. Not often found in compression pedals, Compression Knee can be selected between Soft or Hard to best suit any musical needs. Soft knee provides a subtle and more transparent effect application. Hard knee compression is in-your-face obvious and is better suited for country pickin' or bass-slappin' playing styles when dynamic output must be an effect in itself. CompIQ MINI Pro also makes up for a perfect limiting effect or it can act as a compressor/sustainer pedal, when a high ratio, higher threshold, and hard knee are balanced altogether.
The MINI's side chain allows complex processing with options for Feed Forward and Feed-Back types of compression which are both served by a Variable Side Chain Filter. Feed Forward processing routes a pre-VCA copy of the input signal into the side chain, where its envelope will dictate the compression. This mode of compression is fast and accurate and ensures a snappy modern voicing that can be finely tuned in conjunction with the multitude of controls available. It can go from the lightest of processing up to brick-wall limiting. Feed-Back compression on the other hand is tributary to "old-school" circuits and is sometimes preferable for its less-intrusive feel and apparent slower reaction to triggers. In Feed-Back mode, a post-VCA copy of the audio signal is sent to the side chain control circuit instead. In this mode, only lower compression ratios can be attained and, as a result, it's less suitable for hard peak limiting. However, nothing prevents you from raising the threshold higher and using the MINI as a true Feed-Back limiter, especially along with a hard knee, high ratio, fast timing, and boosting the control signal with the side chain filter. Feed-Back compression feels smoother and natural-sounding, without pumping or breathing. It preserves most of the instrument's character and playing dynamics. Again, in conjunction with the other parameters available at your disposal, a multitude of compression flavors can be achieved. To some extent, the two types of compression can overlap in their audible response, depending on how they are set. Noteworthy is the fact due to the high performance Blackmer® VCA in the Analog Engine®, the MINI will never distort in either mode.
The control signal of the MINI is fully conditioned with a (possibly uniquely configured) variable side chain filter focused around the 90 Hz frequency point. The filter's variance sweeps from Low-Pass to Normal to High-Pass mode. The action of the filter in the side chain has an opposite effect on the working signal at the compressor's output. Complementary, highs above 1kHz in the side chain are progressively compensated for their particularly low amplitude. When turned clockwise, the High-Pass Filter progressively attenuates frequencies below 90 Hz in the side chain and these same frequencies are less compressed in the working signal. Trimmed to the center of its range, the side chain filter acts "normal", presenting a flatter range of control frequencies to the RMS-level detector. When set like this, compression is likely triggered by the high-amplitude low frequencies that touch the threshold first. Turned counterclockwise, the filter goes the other way around, acting as a Low-Pass Filter to actually boost the control frequencies below 90 Hz. This means that the RMS-level detector becomes even more sensitive to the high-amplitude lows which are now more compressed. This kind of setting favors the plucking feel of country music, or may be used for limiting, especially for bass. This setting can also make the compressor additionally sensitive for instruments that lack low-frequency content that can trigger compression, such as guitars with thin-sounding single coils. To summarize, the Normal mode of the Side Chain Filter is suitable for general compression purposes whereas the filtered side chain (cutting below or boosting above 90 Hz, +/-12dB, 12dB/octave) extends the usage of the MINI beyond flat compression. With the Variable Side Chain Filter, compression can be made more or less responsive to low frequencies, allowing more practical usage.
Dynamic Auto Attack & Release Timing circuitry replaces the need for a dedicated attack switch or manual attack and release controls, rendering perfect timings for any playing style. Two-timing options are available – Fast and Slower -, each selection handling both, attack and release timings. Fast attack and release times will create the impression of a modern sound that is crisp, punchy, and detailed. When combining fast timings with a hard knee compression setting, you enter the limiting territory. This is where the blend knob is best used for parallel compression (a.k.a. New York compression style). Slower timings suit slow musical phrasings like bass lines or arpeggiated chords. But really, there are no rules here, just experiment and let the ear be the judge. Regardless of the playing style, the dynamic auto-timing of the compressor will always sound great. Fast transients are released faster, while steady signals decay slower. On average, the release time is 10-15 times the attack time, in each setting.
The amount of compression (or gain reduction) is indicated by a responsive 5-LED display, for visual feedback on how much the signal is reduced while compression takes place. The True-Bypass routing leaves the bass or guitar signal chain untouched when the pedal is not engaged, even if it's not powered.
CompIQ MINI Pro Compressor was designed with guitar in mind but make no mistake, it can add dynamic feeling to any audio signal, including vocals – with an appropriate preamp. We think it may also be among the best mini bass compressor effect pedals. Many instruments can benefit from CompIQ qualities: electric guitar & bass, electric acoustic guitar & bass, electric string instruments, harmonica, brass instruments, synthesizers, etc. The CompIQ series of compressors is not going to alter your instrument's magic voice. They preserve the original guitar or bass tone while providing unobstructed, pristine audio compression. The high dynamic range of these compressors allows for natural-sounding tones and low noise, artifact-free audio processing without the distortions usually introduced by other compressors.
Blackmer® VCA / RMS-level Analog Engine® ensures professional compressor/limiter function
Feed Forward / Feed-Back compression
True RMS-level detector
Ratio 1:1 to inf:1 (limiter) in Feed Forward mode; 1:1 to 10:1 in Feed-Back mode
Threshold -40dB to +10dB
Make-up Gain -6dB to +20dB
Hard / Soft compression knee
Fast / Slower dynamic attack and release timings
Variable Side Chain Filter (raises or lowers control frequencies in the side chain ±12dB @ 90 Hz, 12dB/oct. imparting an opposite effect on the working signal at the output of compressor)
Dry / Wet mix
5-LEDs compression display
True analog bypass
Burr Brown FET IC, low tolerance parts, plastic film audio capacitors
Black powder-coated genuine Hammond aluminum enclosure
9-12 V DC external power supply (not included), center negative, 12mm long barrel plug
3-year premium warranty (direct to manufacturer, international, transferable)
---
Share