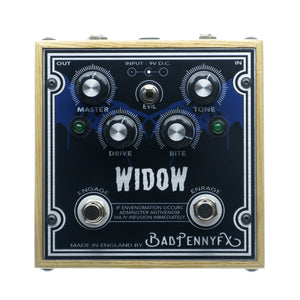 Bad Penny FX
Bad Penny FX Widow Overdrive and Fuzz
Not all items are stocked at our Boca Raton location. If you're local, please contact us before visiting.
Our first original dual footswitch effect pedal brings you the low end drive of our Trainscreamer overdrive stacked with a tight, high gain, modern fuzz.
Our overdrive circuit has a dynamic drive control giving you the ability to dial in various levels of saturation, all the way from a lightly driven boosted clean to a screaming long sustain (as shown in our demo). As a general rule, we like to retain as much low frequency from your original signal as possible and the Widow is no exception. This allows our circuit an extended amount of low-end to be driven, giving lighter gain configurations warmth and fullness and heavier gain configurations a thicker sound than most overdrives on the market.
The fuzz circuit can be engaged when the main overdrive unit is in operation but will only pass audio when operated together with the overdrive. The fuzz is engaged using the Enrage footswitch and is wired in series (prior to the overdrive circuit), meaning that when both circuits are engaged the path is as follows: IN - OVERDRIVE - FUZZ - OUT. This configuration makes the fuzz ferociously attacking, you can modify this signal with use of the Bite control, which starves the fuzz, creating breakup in the output, and the Evil control, which cuts bass from the fuzz, making it brighter and cutting and therefore the overdrive also.
Overall, the Widow is a very versatile, low end overdrive with the added ability to slam into ridiculous high gain fuzz territory whenever you so desire.
Mono 1/4" Neutrik jacks
High quality wide baton finger switch, footswitches and potentiometers
Handmade English Ash hardwood and aluminium enclosure
Non-dazzling green indicator LEDS
22awg cloth wiring
True-bypass switching
Internal faraday shielding
---
Share