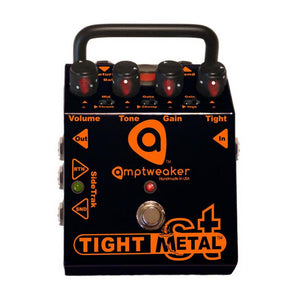 Amptweaker
Amptweaker TightMetal ST Distortion
Not all items are stocked at our Boca Raton location. If you're local, please contact us before visiting.
The TightMetal ST distortion pedal can be used into a clean channel or as a preamp into an effects return or power amp.
The new TightMetal ST™ distortion pedal takes the popular TightMetal™ pedal with its over-the-top metal and hardcore crunch tones, and adds the popular SideTrak™ effects loop. This loop is a secondary loop that only works when the TightMetal ST is OFF. There's also an added High/Low gain switch to select modern or vintage metal tones.
The original TightMetal pedal was designed when discussing various ideas with Mark Kloeppel, guitarist from the deathgrind band Misery Index. Like many other metal players, Mark was looking for a particular guitar tone, one with a lot of harmonics but with the ability to stop the notes really fast to work with their music. As on the original TightDrive, the Tight control varies the low end from smooth and thick to tight and aggressive so you get the attack that works with your guitar and picking style. The pedal also includes a built-in noise gate with a 'Chomp' setting for extremely tight stops.
In the same way high gain tube amps are designed by cascading extra tube stages, the TightMetal was created by adding additional stages in front of a carefully modified TightDrive. The resulting thicker and much heavier distortion is tweaked by a simple built-in output EQ curve, and can further be adjusted by the output Tone control, so it's easy to get a stack sound even through a small combo amp's clean channel.
---
Share