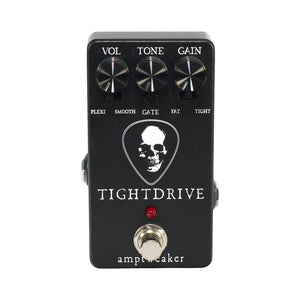 Amptweaker
Amptweaker Tight Drive Overdrive
Not all items are stocked at our Boca Raton location. If you're local, please contact us before visiting.
Designed by iconic high-gain amp guru James Brown, the Tight Drive redefines the boundaries of the standard "overdrive" with enhanced tone sculpting and advanced tone stacks. The Tight Drive provides everything from a nuanced push to the front end of the amp all the way to heavy overdrive/distortion and all points in between. Exceptionally responsive and detailed, the Tight Drive comes with a built-in noise gate, three-way tone stack and controls for volume, tone, and gain.
Perfect in both size and function, the Tight Drive is a welcome addition to any pedalboard.
Noise Gate
True Bypass
3 Way Tone Stack
Gain, Tone & Volume Controls
Current: 13mA with 9V adapter, 15mA at 18V (Power Supply NOT Included)
Weight: 1 lbs.
Dims: 2.7" W X 4.65" D X 2" H
Made in the USA
5 Year Limited Warranty
---
Share