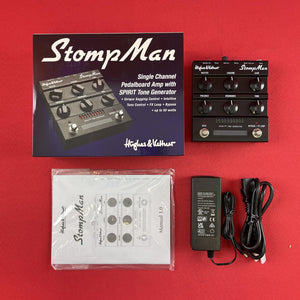 Hughes & Kettner
[USED] Hughes & Kettner StompMan 50-Watt Pedalboard Guitar Amplifier
Sale price
$195.98
Regular price
$239.00
Not all items are stocked at our Boca Raton location. If you're local, please contact us before visiting.
The Hughes & Kettner StompMan is a full-fledged premium guitar amp in stompbox format. Able to deliver remarkable sound pressure levels, it serves up professional tone powered by Hughes & Kettner's Spirit Tone Generator technology. The StompMan was engineered to bring out the best in effects plugged into its input and FX loop. With this pedal-friendly design and a host of connection options, the StompMan is the perfect hub for every pedalboard and an ingenious go-to/ always-on amp for every occasion.
Compact, single-channel guitar amp in stompbox format
Fully analog, zero-latency Spirit Tone Generator technology
Tone, Resonance, Presence and Sagging controls
Sagging knob to adjust power amp compression at any volume
Adjustable, footswitchable Serial FX Loop
Power amp with 50 watts into 4 ohms, 25 watts into 8 ohms, 12.5 watts into 16 ohms
Adjustable, footswitchable Solo function (0 to +6 dB)
50 watts power output
At the heart of the StompMan is Hughes & Kettner's award-winning Spirit Tone Generator technology, a fully analog circuit that captures the tone and feel of traditional tube amps. With this nifty tech in its engine room, StompMan delivers a wide range of sought-after clean and overdriven tones. When paired with outboard effects, it can also serve up every flavor of contemporary heavy sound.
A key feature here is Hughes & Kettner's exclusive Sagging control, which dials in precisely the levels of compression and overtones needed to sweep from classic to modern and all points in between.
Another extraordinary feature of the StompMan is its built-in power amp, which delivers up to 50 watts depending on the connected speakers' impedance. Even at the lower end of the spectrum – 12.5 watts at 16 ohms – it packs a punch assertive enough to be heard and felt in most rehearsal rooms and gigging situations. The adjustable Solo function boosts output power by up to 6 dB at the push of a button. It's the perfect tool for making lead lines stand out and accentuating those soaring highlights in an arrangement.
The StompMan brings out the best in upstream effects. It also sports an adjustable FX Loop for reverb and delay effects. Bypassing the onboard preamp to connect external preamps is an exercise in convenience. And finding that sonic sweet spot is simple with the Trim pot. All preamps benefit from the organic sound of the StompMan power amp – and none more so than digital modelers.
The StompMan does so many things so well: It can serve as the hub of high-quality pedalboards, as the tone-generating power amp for analog and digital preamps, as a recording and re-amping tool, and as an ingenious go-to/ always-on amp for every occasion.
POWER OUTPUT 12.5W @ 16 ohms
POWER OUTPUT 25W @ 8 ohms
POWER OUTPUT 50W @ 4 ohms
DIMENSIONS 132 x 52 x 153 mm
WEIGHT 650 g
---
Share