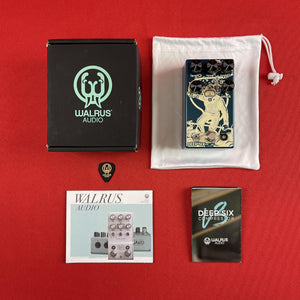 Walrus Audio
[USED] Walrus Audio Deep Six Compressor V3, Teal (Gear Hero Exclusive)
Sale price
$163.18
Regular price
$199.00
Not all items are stocked at our Boca Raton location. If you're local, please contact us before visiting.
[ Items listed as Mint by GearHero conform to the Reverb Gear Conditions guidelines and have no issues or defects to note and include all original materials/accessories. ]
New in the V3 version: Added Tone knob (bass cut) for the ability to shape the low end of your guitar signal, Soft switch/relay bypassing for smoother reliable operation, and top-mounted in/out/power jacks.
The Deep Six is a true bypass studio-grade compressor in stomp box form, inspired by the performance of the Universal Audio 1176 with the simplicity of the Ross and Dynacomp. Offering a Level, Sustain, Attack, and Blend control, the Deep Six will give you unmatched versatility at a price you can afford. The pedal can be powered from a 9V battery or DC Supply. Polarity will never be an issue as the Deep Six comes standard with a polarity correction circuit. The internal voltage is doubled to 18 volts giving you the maximum amount of headroom for your sound while maintaining a typical current draw of 8.9mA for extended battery life. The Deep Six also offers a Blend and Attack control which allows you to use the pedal with active pickups or humbuckers. The blend feature allows you to use high output instruments while truly being able to dial out any distortion that may be present.


---
Share