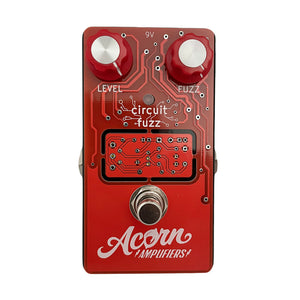 Acorn Amplifiers
Acorn Amplifiers Circuit Fuzz, Red
Not all items are stocked at our Boca Raton location. If you're local, please contact us before visiting.
With the Circuit Fuzz, Acorn Amplifiers has debuted the first effects pedal that provides a bonus effects pedal PCB right on the face of the pedal. Two for one! Perfect for the guitarist interested in building their first effects pedal or a seasoned tinkerer that mods every piece of gear they own. The removable PCB is a simple boost circuit that can be built into a separate pedal or incorporated into the Circuit Fuzz itself. Build instructions available on the 'Boost PCB Build' tab at the top of this page.
The Circuit Fuzz pedal itself is a deceptively simple yet versatile dual transistor fuzz that sweeps between overdrive, distortion, and fuzz tones with the turn of a single knob. Simplicity in design, yet versatility in action - these are the goals of each circuit designed by Acorn Amps and the Circuit Fuzz is no exception.
Hand built and hand wired from start to finish by obsessive compulsive perfectionists in Atlanta, GA
Removable boost effect pedal PCB right on the face of the pedal
Two transistor fuzz pedal featuring one silicon transistor and one hand-picked NOS germanium transistor
Fuzz control sweeps between slight gritty boost all the way to wily fuzz crunch
Assembled entirely with high-quality, audio grade components and rugged latching foot switches and metal Switchcraft jacks
Powered by standard 9 VDC pedal power and consumes less than 30mA of current
---
Share