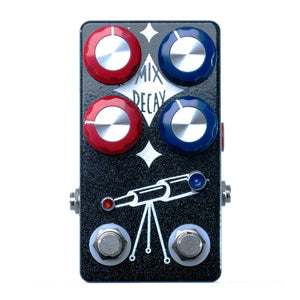 HUNGRY ROBOT
Hungry Robot Stargazer V2 Reverb
Not all items are stocked at our Boca Raton location. If you're local, please contact us before visiting.
The Stargazer V2 is the follow up to one of my most loved pedals. The original Stargazer has found it place on the boards of hundreds of musicians around the world. The intent was to keep the overall essence of the orignal the same while expanding its functionality. The "Stargazer" sound that many have fallen in love with remains unchanged with its classic "hall" and "sparkle" modes
The most exciting change is the "simultaneous, parallel processing" of the two channels. With the new Stargazer, both channels can be used at the same time (the original version only allowed for you to use one channel at a time). The V2 has two independently voiced reverbs that can be stacked in parallel. Layering the two channels makes for an even more lush reverb tone with added depth.
The most obvious change is the physical size of the pedal; I was able to design the PCB more efficiently without major changes to the circuit. The "Sparkle" switch has been removed, but both reverb modes are still available. The left channel (red knobs) is the "HALL" channel and is a darker hall-style reverb. The right channel (blue knobs) is the "SPARKLE" channel and is a sparkly, bright reverb that has a shimmery quality without an octave shift.
---
Share