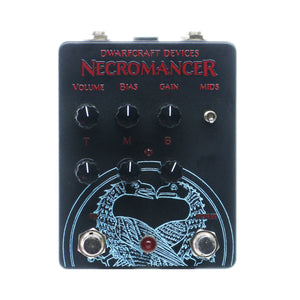 Dwarfcraft Devices
Dwarfcraft Dark Arts Necromancer Fuzz (Limited Edition)
Not all items are stocked at our Boca Raton location. If you're local, please contact us before visiting.
A few months ago, our pal Smo (the amazing artist who did the original Necromancer artwork) asked if we could make a Necromancer with the EQ control on a foot switch and we could not say no. So here she is, the Dark Arts Necromancer, with the EQ control on a foot switch. New art by Aen because Smo is a very busy dude. There are only 25 of these beauties in the world, so get them while the getting is good. ​This version comes with top mounted jacks and a stomp switch to activate the EQ.
The Necromancer started as the Super Fuzz style circuit from the Silver Rose v2. We added a middle band was added to the EQ. The Mids knob is tuned to the deepest frequency dip created by flipping the "Mids" toggle down, allowing players to get a little more picky with their scooped tones.
While rooted in the world of Old School Fuzz (and capable of many of those classic tones) there are also plenty of new and exciting textures in the Necromancer, thanks to it's wide feature set, and slightly higher gain. Topping off the effect is some evil wizard art from Metalocalypse veteran SMO, a long time collaborator at Dwarfcraft.
While designed primarily for guitar, the Necromancer is happy to destroy anything you can stick in it's jack, and does exemplary work with the electric bass. Just watch those knobs, Dwarfcraft is proud to provide "too much" bass and treble on the dial.
Power Requirements: 15mA, Enclosure Size = 4.67" x 3.68" x 1.18", PS - This pedal can act weird with some active pickups.
---
Share