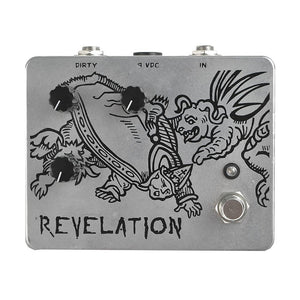 Black Arts Toneworks
Black Arts Toneworks Revelation Superbass
Not all items are stocked at our Boca Raton location. If you're local, please contact us before visiting.
A revelation. Stripped down all out amp pusher. The Revelation has a trio of controls. Pre Gain, Gain, and Volume. LOTS of volume. Pre Gain sets the overall gain level of the device, the gain control dials in the correct amount of distortion and the volume knob absolutely slays the front end of your amp. Think of the Revelation as an extension of your amp's pre section. Use it to push your amp into super creamy saturation, use it to boost your riffs into full and thick exaggerations of your amp's base tone. The Revelation does not alter your tone, just makes MORE of it. Choose the Revelation to hammer your amp.
The SuperLead version of the Revelation is a rawer, more aggressive take on the circuit. A bit gnarlier, mid focused, aggressive sound. Specifically tuned for guitar, and baritone guitars, choose the SuperLead for a fuller, fatter, more saturated and aggressive sound.
The SuperBass version of the Revelation is a rounder, more dynamic take on the circuit. A bit bassier, gruffer, throatier sound. Works equally well for guitar or bass, choose the SuperBass for a fuller, fatter sound.
---
Share