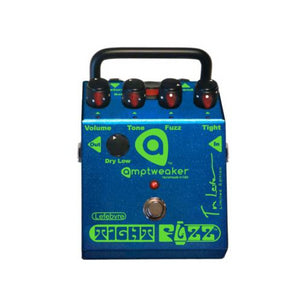 Amptweaker
Amptweaker Lefebvre Bass TightFuzz
Not all items are stocked at our Boca Raton location. If you're local, please contact us before visiting.
The Limited Edition Lefebvre TightFuzz is a flexible fuzz, featuring Tim Lefebvre's favorite Bass TightFuzz tones, and has a Dry Low blend.
In 2014 bassist Tim Lefebvre bought a guitar version of the TightFuzz and fell in love with the tones…..he contacted us and we swapped him for the Bass TightFuzz which has all the same vintage tones as the TightFuzz, but is re-tweaked for bass guitar by moving the Tight, Edge and Tone down an octave, and also included our popular Dry Low knob which lets you add some dry lowend to blend with the Fuzz. Ever since then the Bass TightFuzz has been an integral part of Tim's tone, using it to record and/or tour with David Bowie, Tedeschi-Trucks, Empire of the Sun and many others. In 2019 he joined The Black Crowes for their reunion tour, so we decided to make a Limited Edition pedal with Tim's favorite settings from the Bass TightFuzz.
The Lefebvre TightFuzz was tweaked so that setting the knobs straight up matches one of Tim's favorite settings, which he likes to leave on almost all the time as his main tone…… then cranking the Fuzz is another favorite of his for certain applications where he wants a heavier tone. While most vintage fuzz boxes have very few controls, the Lefebvre TightFuzz includes a Tone control to tame the fuzzy edges and the Tight control, a mainstay of Amptweaker pedals, which varies the pick attack from smooth and thick to tight and aggressive. This is particularly helpful for tweaking a fuzz tone, since many tend to be too flubby on the lowend…..and with the added Dry Low knob, you can tighten up the Fuzz and still blend back in some deep lows. While many modern fuzz boxes have chosen to create wacky over-the-top fuzztone, the Amptweaker approach is to make something that has a lot of flexibile but usable tones.
Tim preferred the Bass TightFuzz set to Germanium output stage, with its softer, lower gain breakup. This cool pedal also has the ability to get lower gain tones easily, with an Auto Bias that adjusts appropriately with the Fuzz control, to get the cleanest and dirtiest distortions possible with one control.
One of the important differences between the Lefebvre TightFuzz and most 'reissue' fuzz boxes is that with the addition of the Tight control in front of the fuzz circuit, the input of the fuzz circuit is effectively buffered from the bass….but in a compensated way. A common problem with the original fuzz designs is that circuits with low output impedances like those in overdrive pedals or from active basses, can completely change the bias and gain structure. The result is often an odd sound or squeals, unusual feedback etc. The buffering in the Lefebvre TightFuzz simulates the impedance of a passive guitar, so that the fuzz circuit works in the normal way it's intended, and any low impedance circuit CAN be used in the loop or in front of the pedal. This includes making it work well with active basses and wireless systems.
True Bypass switch
Fuzz control automatically adjusts bias – more range
Master Volume Control
Dry Low knob adds dry lowend to blend with distortion
Tight and Tone help tame the fuzz
Germanium output transistor switch for warm fuzz
EFX Loop with Pre/Post switch..tracks On/Off Ftsw
LED lit knobs when using a power supply
Battery disconnect switch with red indicator
Works with a 9V battery or 9-18VDC supply
DC Adapter jack, standard 2.1mm X 5.5mm, center ground(-)
BATTERIES/SUPPLY NOT INCLUDED
Magnetic Battery access door opens w/o tools
Dimensions 3.7″W X 5″D X 2″H
Handmade in the USA
5 Year Limited Warranty
Standard Amptweaker features include an effects loop with Pre/Post switch to add delay or combine other distortion and EQs to further tweak your fuzztone. Other features include the LED illumination of controls, Battery On/Off switch, and magnetic battery access door.
---
Share