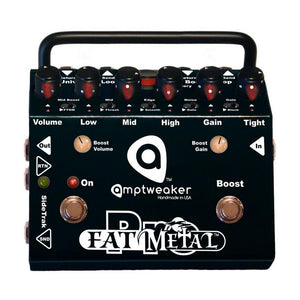 Amptweaker
Amptweaker FatMetal Pro Distortion
Not all items are stocked at our Boca Raton location. If you're local, please contact us before visiting.
The thicker, darker FatMetal Pro distortion can be used into a clean channel or as a preamp into an FX return or power amp.
Since introducing the FatMetal™ distortion pedal in 2015, Amptweaker™ has received many requests for a two button version. Unlike most distortion pedals with boost, the FatMetal Pro includes 2 Boost knobs, one before and one after the distortion…..so it's easy to boost the gain AND volume, for the perfect solo tone. There's also a Midboost button that works with the output Boost knob, to help solos cut through the mix.
The FatMetal Pro is designed for players who wanted a warmer metal tone that works better with brighter guitars and amps, but also is less aimed at palm-muted metal, and works better for tremolo-picking Black metal, and darker sludge and doom metal tones. All features are identical to the TightMetal Pro, but the tone has been tweaked to extend the low range of the Tight and Tone controls, and the Black Gain switch boosts the gain in an appropriate way to get the thicker, buzzier gain required for those genres.
The Thrash switch converts the basic tone into a heavier, more mid-scooped tone for classic vintage metal tones. The noise gate has also been retweaked to make it smoother, and to sound better with the reduced highs of the FatMetal to allow it to work better for solos….but it's internally adjustable if you want the TightMetal CHOMP gate, just crank it!
Amptweaker pedals are known for effects loops, and this one has 3: a universal loop, another active with the boost, and our popular SideTrak loop which activates when the pedal is OFF, to automatically shut off clean effects.
---
Share