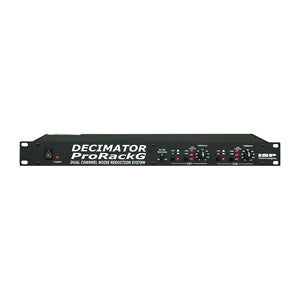 ISP TECHNOLOGIES
ISP Technologies Decimator Pro Rack G Noise Reduction System
Not all items are stocked at our Boca Raton location. If you're local, please contact us before visiting.
ISP Technologies presents the latest generation in high performance Noise Reduction technology, the DECIMATOR™ PRO RACK DUAL CHANNEL NOISE REDUCTION SYSTEM.
ISP raises the bar on ultimate guitar performance with the new, novel patent pending Decimator(TM) ProRackG. The Decimator ProRackG guitar noise reduction system defines a new standard for excellence in real time noise reduction performance. The Decimator ProRackG was designed to provide the maximum possible performance in a rack mount dual channel noise reduction system designed specifically for extremely high gain guitar amplifiers.
Specs:
Input Impedance: 470KOHM
Output Impedance: Less than 1KOHM
Maximum Input Level: +20dbu
Dynamic Range: greater than 118db Typical
Effective Noise Reduction: greater than 120db
Power Consumption: 900mA
THD: Less Than .05%
Dimensions:1.75" H x 19" W x 7" D
---
Share