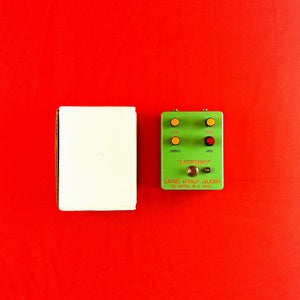 LONE WOLF AUDIO
[USED] Lone Wolf Audio Djerkoff V2 Preamp Booster, Green
Sale price
$205.00
Regular price
$250.00
Not all items are stocked at our Boca Raton location. If you're local, please contact us before visiting.
[ Items listed as Mint by GearHero conform to the Reverb Gear Conditions guidelines and have no issues or defects to note and include all original materials/accessories. ]
V2 for 2002, designed to be run in your effects loop and up front, for all your metal productions. As many people know, Running that old TC integrated pre box at higher voltage yields amazing results when run into the front end of a high gain amp. You too can blast 00000000 1 01 0101010101000001111 000 riffs all day long now.
Ive adapted the Design to take an incoming 9v source and throttle it all the way up to 33volts for the best sound possible, with Overspec rated caps and resistors for running at higher voltage, and best of all, it has a footswitch now so you can run it right on your pedal board! Ive also widened the range of the High and Low controls by about 50% as well.
Due to the high voltage internal up-conversion topology this product WILL NOT work with a bargain power supply and the use of an isolated and regulated power supply is required for optimal operation.
---
Share