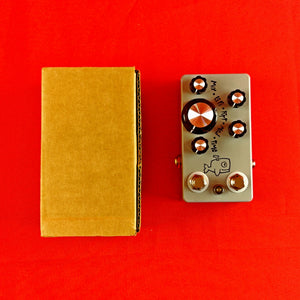 HUNGRY ROBOT
[USED] Hungry Robot The Moby Dick V2 Tape Delay
Sale price
$161.62
Regular price
$197.10
Not all items are stocked at our Boca Raton location. If you're local, please contact us before visiting.
[ Items listed as Mint by GearHero conform to the Reverb Gear Conditions guidelines and have no issues or defects to note and include all original materials/accessories. ]
The Moby Dick V2 brings up to date one of the first pedals that put Hungry Robot on the map. The original Moby Dick is well known for its chimey, tape-emulating delay line with slight lo-fi imperfections and subtle modulation; a "back-to-basics" delay in the world of multi-mode DSP delays.
The V2 has an obviously smaller footprint, but the most exciting changes lie in the circuit updates. When I started designing the V2, I knew that I didn't just want to just make a miniature version of the Moby Dick. I wanted to further explore the sonic capabilities of the tape-emulation, specifically in a lo-fi, wrecked-tape context.
One of the magical qualities of recording to tape is the lovely saturation. The original Moby Dick had a gritty, saturated quality, but in the V2, I wanted to push this to its limit. I added a "Lo-Fi" knob which allows you to dial in additional tape saturation to the delay line. This is done by applying pre-gain amplification to the front end of the delay chip. What I love about the PT2399 delay chip is that it has a wonderfully organic character when gain is applied.
I also wanted to expand the capabilities of the modulation. The original Moby Dick had a very subtle chorusing effect. Though it sounded great, it was admittedly subtle. The V2 increases the modulation depth dramatically, allowing it to travel beyond subtle chorusing into more extreme pitch bending territory. The "Mod" in conjunction with a cranked "Lo-Fi" knob creates the most amazing broken tape-deck quality, but when these knobs are dialed back it retains the overall character of the original.
---
Share