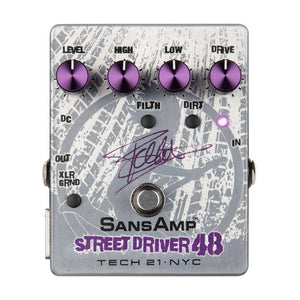 Tech 21
Tech 21 FB48 SansAmp Frank Bello Signature Street Driver 48 Overdrive
Not all items are stocked at our Boca Raton location. If you're local, please contact us before visiting.
Frank Bello is known for bringing a distinct style and energetic passion to Anthrax. He somehow manages to merge complex melodic riffs, not typically associated within that genre, with dizzying speed and accuracy —all while headbanging, romping around the stage, and dashing up to the mic to sing harmonies. Spending his early years hanging out on 48th Street, Frank discovered and bought his first SansAmp. He later picked up the SansAmp Bass Driver, which became the heart of his rig for several decades.
DRIVE - Adjusts the overall amount of gain and overdrive.
LOW, HIGH - Active tone controls that cut or boost from 12 o'clock.
LEVEL - Adjusts the output level without altering any of the tonal characteristics.
DIRT SWITCH - Adds extra gain and overdrive for over-the-top nastiness!
FILTH SWITCH - Adds top-end sizzle and razor edge clarity to emphasize your attack.
SPEAKER SIMULATION - The all-analog SansAmp Tube Amplifier Emulation technology encompasses the entire signal chain, from pre-amp to power amp to speaker simulation. It will complement any type of bass speaker cabinet system. You can also place an external IR after a SansAmp to give additional flavor if you so desire. The SansAmp speaker sim is designed and individually tailored for a smooth, even response as would be achieved by a multi-ply-miked cabinet --without peaks, valleys, and notches associated with single miking and many IRs.
In addition to the specific tones Frank wanted, a major priority was to make the Street Driver 48 simple to operate. He didn't want a zillion knobs, switches, or gratuitous bells & whistles. He wanted players to be able to get a great sound right out of the box, whether it's for metal or R&B or prog rock, whether novice or expert, whether young or advanced in years. As with all Tech 21 Signature SansAmps, the Frank Bello Street Driver 48 offers the artist's core sounds and the versatility for many different styles.
1/4-inch 1megOhm instrument level input
1/4-inch unbalanced low Z universal output
Balanced low Z XLR output with ground connect switch
Rugged, all-metal housing
Metal knobs, footswitches and jacks
Silent-switching, custom footswitch actuators
Measures 3.75"w x 4.75"h x 2"d
Utilizes included 9V DC power supply (Tech 21 Model #DC9), 250mA, 100-240V universal auto-switching power supply with with heavy duty braided cord and interchange-able international plugs for use anywhere in the world.
---
Share