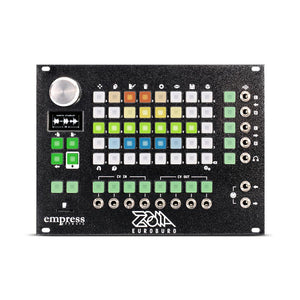 Empress
Empress Effects ZOIA Euroburo Modular Workstation
Not all items are stocked at our Boca Raton location. If you're local, please contact us before visiting.
ZOIA Euroburo is an open canvas to paint your sonic ideas. FM synthesis, CV tools, MIDI tools, audio effects, interface options - all at your fingertips. The Euroburo transforms the rigmarole of interfacing a studio full of music gear and condenses it into one handy little box, which you can then interface with your own studio full of music gear.
4 CV Input and 4 Output Jacks - Editable CV jacks that send or recieve -5 to 5, 0 to 5 or 0 to 10 volts
8 Dedicated CV UI Buttons - CV jack connections are always accessible on the face of the Euroburo
2 Quick Access Buttons - Sticky buttons, the assigned function does not change when changing page. Great for live performances!
Stereo 3.5mm audio I/O - Includes dedicated audio I/O buttons to quickly patch in and out of the ZOIA
MIDI 1/8" In/Out jack - MIDI 1/8" in/out jacks allow you to connect a huge range of external devices to control any or all of ZOIA's functions and easily add MIDI control to your modular setup!
Headphone Audio Out - 3.5mm headphone out with UI button for volume control
Skiff Friendly - 28mm depth with power
Optional Enclosure - Durable 9v 34 hp slim enclosure with power supply sold seperately
ZOIA Euroburo is an infinite trick pony whose utility is limited only by your imagination.
80+ Modules and Growing - ZOIA Euroburo comes packed with a vast collection of modules to create just about anything you can dream up. With ZOIA the only limit is your imagination!
Create your own effects, synths, control devices, and more! - Oscillators, LFOs, filters, bit crushers, envelope followers - these are just a handful of the included modules that can be connected in almost any way imaginable. If you can dream it up, you can create it!
20+ Ready-Made Effects Modules - Pre-built effects modules such as reverbs, delays, chorus', flangers, overdrives and more.
Up to 64 Patches - Create and save up to 64 patches that can be easily recalled during live performance.
Swap and Share Patches - Join the community of ZOIA users on patchstorage.com to try out other users patches, or upload your own awesome creations to share with the world.
SD Card Included - Load and save patches to/from ZOIA. We're also continuously improving the firmware by adding new modules and features, and fixing bugs. Download the newest firmware from empresseffects.com and load onto the ZOIA with the included SD card.
OLED Display Screen for Easy Editing - View all of ZOIA's module and parameter information on the high resolution OLED display screen.
Patch Recall System Send MIDI program change messages to change patches on the fly
Built-In Help - Almost like having a built in manual, the dedicated help function will give you quick information at a glance about ZOIA's various modules and options.
High-Quality Audio - 48kHz sampling, with 24 bit conversion and 32 bit internal processing.
Low-Noise Signal Path - Features extremely low noise operation with a signal to noise of >105dB
---
Share