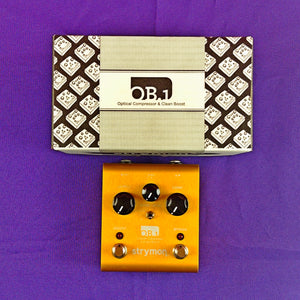 STRYMON
[USED] Strymon OB.1 Optical Compressor and Clean Boost
Sale price
$185.99
Regular price
$199.99
Not all items are stocked at our Boca Raton location. If you're local, please contact us before visiting.
NOTE: This is a used item.
Before purchasing, please see the item description below for information about any defects, issues or damage to the item.
[ This item is a previous rental and is in complete working condition, any issues are cosmetic only. There may be surface scratches, stickers, and/or velcro applied - but may also be completely mint. In most cases, the original box and any other originally-included accessories or materials are included. See Image for details. ]
OB.1 combines studio quality, beautifully transparent analog optical compression with a Clean Boost with EQ curves designed to super-charge your favorite amp and reveal its true character. Featuring an all-analog signal path with premium components throughout, a high-impedance input, and very low noise circuitry, OB.1 is perfect for the number one spot in your signal chain. It's the missing piece you've been searching for.
There is a monster trapped inside your low or medium gain amp, and OB.1 can set it free. Bring out your amp's character in ways you never thought possible. Hear things you never knew your amp could do.
OB.1 provides greater than 20dB of gain-compensated compression, and with the integrated Clean Boost, an extra 10dB of full-frequency, mid or treble boost is available. Use the mid or treble boost together with a bit of transparent compression, and your amp will sound like it was just modified by a world-class boutique amp designer.
---
Share