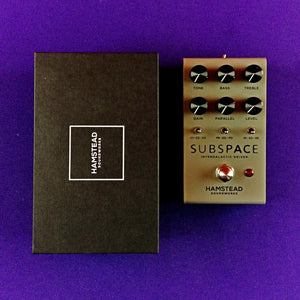 Hamstead Soundworks
[USED] Hamstead Soundworks Subspace Intergalactic Driver Bass Overdrive
Sale price
$283.79
Regular price
$359.00
Not all items are stocked at our Boca Raton location. If you're local, please contact us before visiting.
[ This item is a previous rental and is in complete working condition, any issues are cosmetic only. There may be surface scratches, stickers, and/or velcro applied - but it could also be completely mint. In nearly all cases, the original box and any other originally-included accessories or materials are included. ]
Whilst developed with bass in mind, Subspace took us further than we could have imagined. When used with guitars it opens up a whole range of alternative and inspiring drive sounds, and allows frequency-specific clipping for all instruments including keys, synths and drum machines. When used with bass it offers more than you could believe was possible from a compact analogue drive pedal.
3 Clipping Circuits
Powerful Tone Shaping
Frequency-Specific Clipping
Warm Vintage Overdrive
Defined High Gain Distortion
Parallel Dry Control with x2 Boost
+/-18dB of Treble and Bass Boost & Cut
Mid-Boosted Drive
Glitchy Oversaturated Fuzz
-10dB Input Gain Switch
Subspace has been extensively tested with a large range of familiar basses, guitars and amplifiers to ensure that it will work great with any setup.
All-analogue design
Dimensions: 70w x 130d x 65h mm (inc. hardware)
Weight: 550g / 1.2lbs
Power Requirement: 9V DC ONLY, 60mA (centre negative)
Input Impedance: 500K Ohms
Output Impedance: < 300 Ohms
Warranty: 5 Year Limited Warranty
Designed and built in Great Britain
---
Share